I cannot believe my sweet little Hudson is 6 weeks old already: in some ways it feels like only yesterday and in other ways, I cannot remember a time before he was my constant companion :) Anyone else feel that way?

As I reflect on my recent journey into motherhood, I have learned so many things. Since Huddy is 6 weeks old, I'll share 6 things I've found:
1. There is nothing in the world like holding your child
I could not have imagined the love that would well up inside of me. The baby I had waited for and prayed for was finally here! Even now, I love the snuggle sessions with my sweet little guy.
2. Who knew that watching a baby could be so entertaining?
Yes, we are those parents. I'm amazed at how much time we can spend contentedly watching our baby sleep and laughing over his funny little facial expressions. Hudson is such a character:
3. So. Much. Laundry.
I was sure I had wayyy too many clothes stuffed into his dresser. But when this little guy goes through 4 or 5 outfits in a day, I'm glad I stocked up. Good thing baby clothes are so cute and tiny - otherwise I'd fill 2 or 3 loads a day!
Cleaning spit up is now a natural part of my day.
I was positive I had too many burp cloths. After my last shower, I actually took back a package because I thought I didn't need it. Silly me. Boy, did I learn my lesson - I have since been to Babies R Us to re-buy that pack and two more! I've learned to keep burp cloths in every room of the house. You never know when he's going to blow...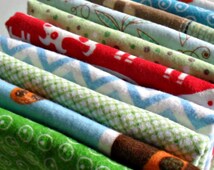 4. Having help/support is absolutely necessary
We were very fortunate to have lots of family and friends fly in or come by to bring meals, help around the house, and adult conversation. Since they've left, I have joined a Mom & Baby group and have had such fun meeting other moms of newborns, swapping stories, and getting helpful advice on a weekly basis.
5. Babies smell wonderful - especially after a bath
There is nothing cuter than a snuggly baby, wrapped in a towel after a bath.
6. The dishes can wait
As an energizer, multi-tasker, I often want to get things done with the efficiency that I used to. In a span of an hour, I could curl my hair, unload the dishwasher, fold a load of laundry, and organize my shoes. Now? I choose to spend my time keeping this little guy alive and happy - and it's worth every second :)
What would you add? Any further lessons you learned after having a baby?