Today I have a quick post about one of my favorite topics...
I have hundreds of books in my classroom library
and the collection is ever-growing!
Today I'm joining Primary Chalkboard to share two of my favorite picture books: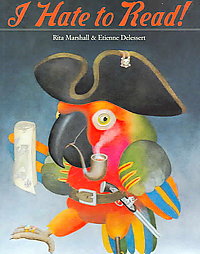 Whenever I pull out this book, my students look at themselves, puzzled, because I share my passion for reading on a daily basis
Here's the synopsis:
Victor Dickens hates to read, and nothing can change his mind. Or can it? How about a parrot with a peg leg? Or a rabbit with black barn boots? Or a field mouse with gold coins? Anything can happen on the whimsical, wonderful night when a little boy with a stubborn hatred of books discovers that printed words can take on lives of their own.
It's a great story to use when discussing the power of words and the ability a book has to take us to new and different places.
Check out "I Hate to Read" by Rita Marshall here.
A second book that I love is...
One who marches to the beat of his drum.
One who, though different, is very nice to have around :)
There are several books in the Tacky series, each one just as fun and quirky as the next. My kiddos love hearing about Tacky's antics and seeing how he always manages to save the day. It's also great for a compare-contrast activity as Tacky couldn't be more different from his penguin friends: Goodly, Lovely, Angel, Neatly, and Perfect.
What books are you loving?