As we welcome December, I can't help but think of these song lyrics:
"Dancing bears, painted wings
Things I almost remember
And a song someone sings
Once upon a December"
The first person to tell me what this song is from will earn a FREE product from my TPT store :)
Speaking of December, here's what I'm currently up to...
Listening:
I love me some Bing Crosby, especially at Christmas-time! I have his Christmas songs playing pretty much non-stop for the entire month of December.
Yesterday the hubby and I spent the day decorating our cozy apartment for Christmas. It looks so festive in here! :)
I have a long list of presents to buy and I'm ready to get cracking! Do you do most of your shopping in stores or online?
This Christmas I am hoping for a new pea coat! This is the one I have my eye on: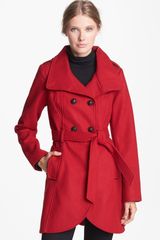 Well, if you have then you know how addicting they are.
If you haven't, get out while you still can :)
Every year, my hubby and I get in our pajamas, do drive-through and get some hot chocolate, and then spend an evening driving around looking at Christmas lights. It is one of the most special nights of the year!
Speaking of Christmas, I've got a couple of new products for you:
Click HERE to snag this packet for only $2!
And last, but not least, here's a FREEBIE for you...
Click HERE to grab your FREE copy of Santa's Syllable Sort
If you download it, please leave feedback :)