2014 is just around the corner!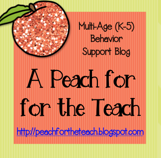 for her fun 2014 Resolution linky party:
And if you're looking for something FUN and ENGAGING to get you through the first couple of days back to school, I've got just the packet for you!
"Ringing in the New Year" is a 19-page packet includes activities across the subject areas: from reading to math to writing to spelling to poetry! This packet has it all :) It even includes a quick and easy bulletin board idea!!!
Click HERE to check it out - and snag it for only $3!