Today I want to talk to you about "The H Word"
Here's my opinion: Homework is necessary for reinforcing concepts taught in the classroom. It should be limited and assigned with a purpose. I never just send home busy work. I never assign homework in more than two subjects on one night. I don't send home something I have not covered in class. As a teacher with many students with parents who do not speak English at home, I never want homework to be a battle. It should be valuable practice that builds confidence and solidifies concepts. It keeps the parents informed of what we're doing in class and helps me assess who needs further assistance and/or enrichment. I frequently give nights of no homework (other than to read and study their spelling words) so that my students can have time to be kids. I love to hear that they are playing outside or spending the afternoon perusing the bookshelves at the local library. I never want to over-burden my students.
I do - sometimes the papers pile up and take over my desk, tornado-style.
Grading becomes a monumental task, especially in regards to projects.
I love assigning projects - coming up with a creative assignment, getting the kids pumped up about it, and then helping them get started.
I love when the projects are due and the kids stand at the front of the class and present their hard work.
But then the posters, shoe boxes, dioramas, etc. have to get packed into my car and taken home for hours of grading torture fun.
Today I want to share two online tools that have helped immensely with grading:
Do you have one of these?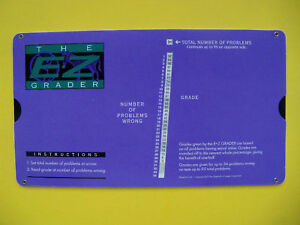 One at my desk, one for my teacher assistant, one in my teacher bag, and one at home.
Still, there are countless times when I sit down with a stack of papers and cannot seem to find one.
I think they grow legs and wander off, in search of snacks :)
One day I was determined to get some grading done, but couldn't find my EZ grader.
I pulled out my calculator, but then thought to look online for an easier solution.
And this is the gem that I found...
It's simple, accurate, and FREE!
All you do is type in the total number of questions and the number the student got incorrect:
If you're doing a whole class set of a worksheet that has the same amount of problems, you can check the box that says "Show Quick Chart" and it gives you a "virtual EZ-Grader"
Another resource that has helped me - especially when grading projects is...

RubiStar is a great website where teachers can create and customize their own rubrics for different assignments. There are a lot of pre-created rubrics online, but sometimes you just need to customize one for yourself. RubiStar helps you to do just that!
It's FREE to register - and once you do, you can save your rubrics for future reference.
Once you're logged on, you can choose a rubric from their database to customize:
Once you choose your category, it brings you to the rubric template:
where you can choose your criteria from a list of options - or type in your own :)
Do you have a tool that helps with the grading process? If you do - please share!
Hop on over to Holly's blog to see what other ideas teachers have TRIED this week :)