Yesterday I was given an unexpected treat: I got a call to say that I could come by my new school to pick up my key and see my new classroom!!!
Here are some "BEFORE" pictures:
I am DROOLING over this closet: Can't wait to fill it up!
I plan to start bringing in stuff tomorrow - I can't wait! :)
~~~~~~~~~~~~~~~~~~~~~~~~~~~~~~
Now, for the real reason for this post...
I have been brainstorming and planning for

centers

this coming year and have two ideas to TRY:
Do you have one of these?
You can buy them anywhere for about $5.
I saw this puppy at a thrift store for $2 and knew I could find a creative use for it...
Center Station Folder Holder!
I filled it with specific topic-themed centers for the day and
put some dry erase markers in the cutlery holder for students to grab:
My next idea came from Farley from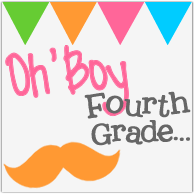 Four-Pocket Writing Center Folders
I went to Staples four times last week.
One reason...
1 cent folders :)
I am planning on having 28 students and needed two folders per student (one with brads and one without)
Now, my blue folders (without brads) didn't have holes in them, so I stuck them in my heavy-duty hole puncher (best Christmas present ever!) and voila:
Then I folded the blue folder inside out and attached it into the brads in the green folder:

So it creates a folder with FOUR pockets:
Then I printed out labels to make my writing center folders:
~~~~~~~~~~~~~~~~~~~~~~~~~~~~~~~~~~~~~
Now I'm a tad stressed about managing small groups/centers with 27 10-year-olds!
Anyone have any tips/strategies for managing that many students?