One of our first social studies units of the year has has to do with modern transportation, focusing primarily on Henry Ford and the Wright Brothers. Studying the fathers of flight, Orville and Wilbur Wright, is one of my students' favorite times of the year - probably because they get to create a paper airplane :)
Having recently moved to the aviation capital of the country, last week I had the opportunity to go to the Museum of Flight, an incredible museum, chronicling the history of aviation.
Here are some pictures from my trip:
Orville Wright, testing out his glider
Here I am standing beside a prototype of the Flyer,
the airplane invented by the Wright Brothers
Hubby and I standing outside of Air Force One!
If you leave anywhere near the Seattle area,
it is definitely worth the visit!
Now, back to the real reason for this post...
I wanted to share a couple of great books that I use when teaching about these innovative Wright brothers: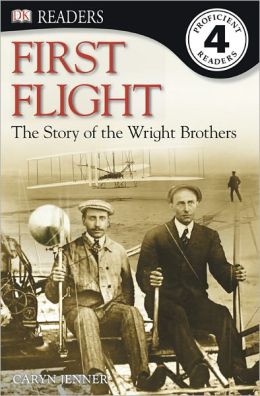 DK Readers books is one of my favorite series because they are thorough, interesting, and perfect for upper elementary students. I don't usually read them to my students in one sitting, but will either pick and choose sections to share or read the entire book over 2 or 3 days.
Here are some sneak peeks inside the book:
Wilbur and Orville Wright were bicycle mechanics, and it was their expertise on cycles that helped form the concept of an airplane
After many years of designing and creating prototypes, testing, succeeding and failing, the Wright Brothers had their first successful sustained flight in Kitty Hawk, NC in 1903.
I also stumbled onto this awesome book that I use in conjunction with the other one:
This is a fabulous book, told from the perspective of Orville and Wilbur's younger sister, Katherine, written by the famous Jane Yolen.
It is a sweet story of the incredible fear, told from a young girl's perspective. It is definitely worth getting for your library.
I am working on a full packet of activities, but it isn't quite ready yet, so in the meantime, how about a freebie?!?
~Answer Key Included~
Click HERE to grab your FREEBIE.
If you download it, please leave feedback :)
Happy Sunday, my friends!