I just got home from my last full day of school!
Only 3 1/2 hours separate this happy teacher from summmerrrr!
Actually, I'll be cleaning and packing my classroom until Friday,
but tomorrow is my last day with kiddos.
For this week's "Tried-It Tuesday,"
I'm going to share something
I've been trying for the last 26 days :)
Alphabet Summer Countdown
Now this was not my original idea.
About two months ago, I heard about it from
Collaboration Cuties and Ideas by Jivey
and my teaching partner, Rosie, and I decided we HAD to do it!
We came up with a schedule:
Each morning I had a student color a picture
to represent the daily celebration.
Here's our completed board:
Here's a re-cap of some of my favorite days:
H = Crazy Hat Day!
J = Jigsaw Day!
I = Imagination Day!
We spent the day exercising our imaginations :)
We did a lot of fun, creative writing/drawing
activities from this packet:
The kids LOVED it!
It was definitely one of their favorite days in the countdown :)
Snag yours for only $1 today!
Y = Yard Sale Day!
More of a ticket raffle than a yard sale, we placed prizes
(leftovers from our prize boxes and treasures bought with Scholastic Bonus points) on tables with plastic cups.
The students put their tickets in cups
for prizes they hoped to win:
Then we mixed up the tickets and drew out one name per prize.
The kiddos showing off their prizes!
All of the leftover tickets were placed in a huge bucket and
we drew one name for a Mega prize of books and games :)
I'm sad our countdown has come to an end - tomorrow is
"Zoo Day"
where each student will bring in a stuffed animal to celebrate the last day of school with!
Here's the little buddy I'm bringing in:
Got an idea you've tried recently? Hop on over and share it with
Holly at Fourth Grade Flipper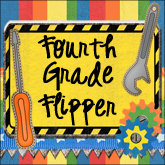 FYI
This week's Tricks of the Trade Thursdays topic is...
How do you store your manipulatives?
How do you keep track of them?
How do you keep pieces from "wandering away"? :)